BILDERGALERIE: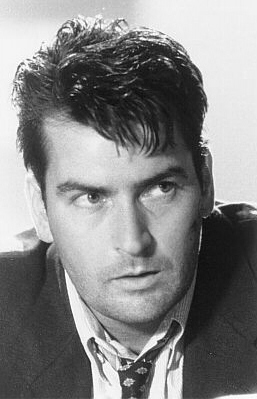 .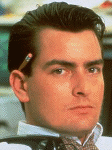 .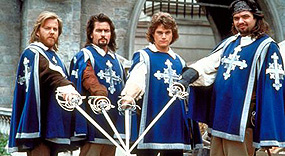 FILMBIOGRAFIE:
Good Advice ,2001/The Victoria's Secret Fashion Show, 2001/Famous ,2000 /Rated X, 2000/Being John Malkovich ,1999/Five Aces, 1999/High Tension, Low Budget (The Making of a ''Letter From Death Row''), 1999/No Code of Conduct, 1998/Free Money, 1998/Postmortem, 1998/ A Letter From Death Row, 1998/Bad Day On the Block ,1997/Shadow Conspiracy ,1997/Mission to Mars, 1997/Money Talks ,1997/ All Dogs Go to Heaven 2 ,1996/The Arrival ,1996/Loose Women, 1996/Terminal Velocity, 1994/Major League II ,1994/Charlie Sheen's Stunts Spectacular (Made for T V), 1994/ The Chase ,1994/Hot Shots! Part Deux ,1993/The Three Musketeers ,1993/Deadfall, 1993/Loaded Weapon 1, 1993/Diamonds on the Silver Screen (Made for T V), 1992/Beyond the Law;Fixing the Shadow ,1992/Stockade ,1991/Hot Shots!,1991/Cadence, 1991/Men at Work ,1990/The Rookie, 1990/Navy SEALS ,1990/Young Guns II ,1990/Courage Mountain ,1989/ Major League ,1989/Tale of Two Sisters, 1989/Catchfire,1989/Comicitis,1989/Courage Mountain, 1989/Eight Men Out, 1988/Never on Tuesday, 1988/Young Guns ,1988/ Three for the Road ,1987/Wall Street ,1987/ No Man's Land ,1987/Grizzly II: The Predator, 1987/The Boys Next Door, 1986/Platoon ,1986/ Ferris Bueller's Day Off ,1986/ A Life in the Day, 1986/ Wisdom, 1986/The Wraith, 1986/ Lucas, 1986/Out of the Darkness, 1985/The Fourth Wise Man (Made for T V), 1985/Silence of the Heart (Made for T V), 1984/Red Dawn ,1984/ The Execution of Private Slovi (Made for T V), 1983.
BIOGRAPHIE:
Real Name: Carlos Irwin Estevez
Nicknames: The Santa Monica Kid, Chas, The Shotgun Kid, MaSheen
Date of Birth: September 3, 1965
Place of Birth: New York
Parents: Ramon (Martin Sheen) and Janet Estevez
Siblings: Emilio Estevez, Ramon Estevez and Renee' Estevez
Children: Daughter, Cassandra
Height: 5' 10"
Eye Color: Hazel
High School Baseball Team: Santa Monica High Vikings -- #22
His winning percentage as a pitcher was .720, while a knuckleball -
fastball tandem kept his ERA (earned run average) at 3.00.
His fastest pitch, 84 m.p.h.
Fave Actors: "his pop"(Martin Sheen), Al Pacino, Robert Duvall,
Robert De Niro, Clint Eastwood
Fave Movies: Jaws, Star Wars, Dog Day Afternoon, Badlands, Apocalypse Now
Fave Foods: Sushi, Swordfish (from "The Grill'') and ''anything barbecued''
Fave Color: Yellow
Fave Baseball Team: Cincinnati Reds
Fave Basketball Team: The Lakers
Fave Bands: U2, Led Zepplin, The Doors, Jimi Hendrix
Collections: Baseball memoribilia, Guns, Cars, Watches, Comic books
Hobbies: Poetry, Fishing, Baseball
Loves to Bar-B-Que -- Developed his own bbq sauce at the age of 15
First Car: BMW on his 16th birthday
Tattoos: Charlie has 12 tattoos in all, some of those are... Fire breathing
Dragon's Head with eye glasses, Japanese God (Protector of Youth), Stingray,
Open zipper with an eyeball peeking out, Initials CM-EMA (Charlie MaSheen -
Eat My A$$), Burning Marlboro cigarette, Charlie Brown with ''MOM'' in word
bubble, A note pinned to his chest saying ''Back in 15 minutes''
Dislikes: Horses, Heights, Swimming in the ocean
Has made over 200 Super-8 films with brother Emilio and friends, the Penn's
(Sean and Chris) and the Lowe's (Rob and Chad). He branched out into 16mm
film with the short, R.P.G, which was featured in the movie Wisdom, which
was written and directed by brother, Emilio Estevez. As well as a short film
entitled One Family about the homeless in America. He also directed a music
video, NICKS, as well as writing and producing his first 35mm production,
R.P.G. II
****
BILDERGALERIE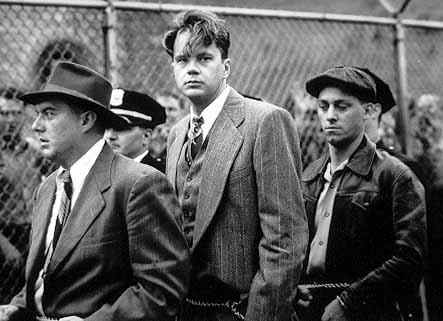 .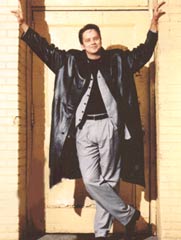 .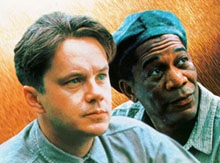 FILMBIOGRAFIE:
The Truth About Charlie,2002/ Human Nature, 2001/ Anti-Trust, 2001/High Fidelity, 2000/ Mission to Mars, 2000/Cradle Will Rock,1999 (Regisseur) / Arlington Road, 1999/ Austin Powers 2: The Spy Who Shagged Me, 1999 (Gastrolle)/Nothing to Lose, 1997/ The Typewriter, the Rifle & the Movie Camera, 1996 (Producer, Erzähler) /Dead Man Walking, 1995 (Regisseur, Script, Producer)/The Hudsucker Proxy, 1994/I.Q., 1994 /Pret-a-Porter:Ready-to-Wear, 1994/The Shawshank Redemption, 1994/Luck, Trust & Ketchup: Robert Altman In Carver Country ,1993/Short Cuts, 1993/Bob Roberts,1992 (Script, Regisseur, Musik) /The Player, 1992/Post No Bills,1992/ Jungle Fever, 1991/Cadillac Man, 1990/Jacob's Ladder, 1990/Erik the Viking, 1989/Miss Firecracker, 1989/Bull Durham, 1988/Tapeheads, 1988/Twister, 1988/Five Corners, 1987/Howard the Duck, 1986/Top Gun, 1986/Fraternity Vacation, 1985/Malice in Wonderland, 1985 ( T. V. - Serie) /The Sure Thing, 1985/No Small Affair, 1984/Toy Soldiers, 1984/Quarterback Princess, 1983 ( T. V. - Serie) /Network,1976.




BIOGRAPHIE:
Film actor, director, and writer, born on October 16, 1959, in West Covina, California. He grew up in New York City, moved to Los Angeles in 1981, and helped found the Actors Gang, an alternative theatre group. To fund this venture he took roles in such films as Fraternity Vacation (1985) and Howard the Duck (1986). He wrote, directed, and composed the songs for the critically acclaimed Bob Roberts (1992). Later films include (as actor) The Shawshank Redemption (1994) and The Moviegoer (1998) and (as producer, director, and writer) Dead Man Walking (1995). He also produced and starred in Arlington Road (1999).
He currently resides in New York City with his longtime companion, actress Susan Sarandon, whom he met while filming the 1988 film Bull Durham. The couple has two children, Jack Henry and Miles.