Bildergalerie: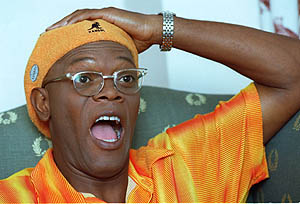 .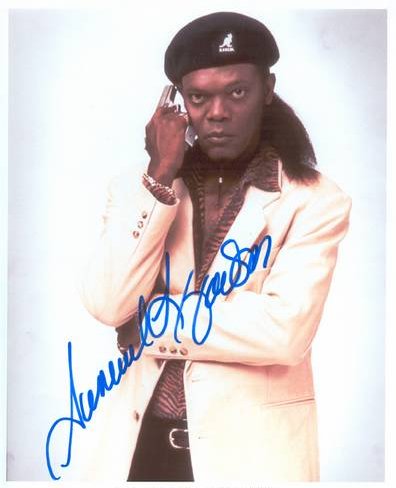 .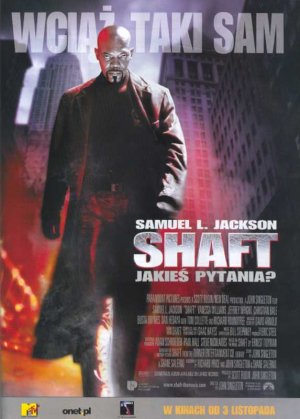 BIOGRAFIE:
Birth Name: Samuel Leroy Jackson
Birthdate: December 21, 1948
Birthplace: Washington, D.C.
Occupations: Actor, Producer
Quote: People mistake me for Laurence Fishburne all the time. And he always gets mistaken for me. (And why not? We've both starred in Spike Lee movies, haven't we?) Even when we're standing together, people have called him by my name and me by his. A woman recently ran up to him and said, 'My daughter loved you in Pulp Fiction! Could she have your autograph?' So he signed it, 'Respectfully yours, Samuel Jackson.'
--Details, February 1996
Claim to Fame: 1994: Jules, the philosophizing hit man and partner of John Travolta, in Quentin Tarantino's Pulp Fiction; earned Best Supporting Actor Oscar nomination
Significant Other(s):
Wife: LaTanya Richardson, actress; born in 1941; married 1980; met while Jackson was attending Morehouse College; acted together in Losing Isaiah (1995)
Family:
Grandfather: Janitor, helped raise Jackson
Father: Lived away from family in Kansas City, MO
Mother: Elizabeth Jackson, clothing buyer; began as a domestic and ended career as supply buyer for state mental institution
Aunt: Edna, teacher; lived in home with Jackson while growing up in Chattanooga, TN; inspiration for him taking role as teacher in 187
Daughter: Zoe Jackson, born 1982; mother, LaTanya Richardson
Awards:
1991: Cannes Film Festival Special Jury Prize Award: Best Supporting Performance, Jungle Fever
New York Film Critics Circle Award: Best Supporting Actor, Jungle Fever
1994: Society of Texas Film Critics Award: Best Actor, Pulp Fiction
Independent Spirit Award: Best Actor, Pulp Fiction
1995: BAFTA Award: Best Supporting Actor, Pulp Fiction
1997: NAACP Image Award: Best Supporting Actor in a Motion Picture, A Time To Kill
1998: Berlin Film Festival Silver Bear: Best Actor, Jackie Brown
Independent Spirit Award: Best First Feature, Eve's Bayou; shared award
Factoids:
1996: Admitted to having been addicted to crack cocaine in the mid '80s in a TV interview with Mary Hart on Entertainment Tonight
Education:
Morehouse College; Atlanta, Georgia; BA 1972; majored in drama; temporarily expelled in 1969 (junior year) for holding trustees (including Martin Luther King Sr.) hostage to protest the lack of a Black Studies program



FILMOGRAFIE:
Together for Days (1972)/ Displaced Person, The (1976) -- TV/ Trial of the Moke, The (1978) -- TV/ Ragtime (1981)/
Uncle Tom's Cabin (1987) -- TV/ Magic Sticks (1987)/ Eddie Murphy Raw (1987)/ School Daze (1988)/ Coming to America (1988)/ Dead Man Out (1989) (TV)/ Do the Right Thing (1989)/ Sea of Love (1989)/ A Shock to the System (1990)/ Def by Temptation (1990)/ Betsy's Wedding (1990)/ Mo' Better Blues (1990)/ The Exorcist III (1990)/ Goodfellas (1990) Review/ The Return of Superfly (1990)/ Jungle Fever (1991)/ Strictly Business (1991)/ Dead and Alive: The Race for Gus Farace (1991) -- TV/ Jumpin' at the Boneyard (1991)/ Johnny Suede (1991)/ Juice (1992)/ White Sands (1992)/
Patriot Games (1992)/ The Secret World of Spying (1992) -- TV/ Fathers & Sons (1992)/ Simple Justice (1993) -- TV/
National Lampoon's Loaded Weapon 1 (1993)/ Amos & Andrew (1993)/ Menace II Society (1993)/ Jurassic Park (1993)/
True Romance (1993)/ Assault at West Point: The Court-Martial of Johnson Whittaker (1994) -- TV/ Against the Wall (1994) -- TV/ Fresh (1994)/ The New Age (1994)/ Pulp Fiction (1994)/ Hail Caesar (1994)/ Losing Isaiah (1995)/ Kiss of Death (1995)/ Die Hard: With a Vengeance (1995)/ Fluke (1995) -- Voice Only/ Sydney (1996) -- Also known as Hard Eight (1997)/ The Great White Hype (1996)/ Trees Lounge (1996)/ The Search for One-eye Jimmy (1996)/ A Time to Kill (1996)/
The Long Kiss Goodnight (1996)/ The Journey of the African-American Athlete (1996) -- Narration/ You're Still Not Fooling Anybody (1997)/ One Eight Seven (1997)/ Eve's Bayou (1997)/ Jackie Brown (1997)/ Death (1997)/ Sphere (1998)/ Out of Sight (1998) -- Uncredited/ The Negotiator (1998)/ Le Violon Rouge (1998)/ Star Wars: Episode I - The Phantom Menace (1999)/ Deep Blue Sea (1999)/ Our Friend, Martin (1999) -- Voice Only/ Any Given Wednesday (2000)/ Rules of Engagement (2000)/ Shaft (2000)/ Unbreakable (2000)/ Jazz (2001) -- TV, Voices only/ The Caveman's Valentine (2001)/
51st State, The (2001)/ Changing Lanes (2002) Review/ Star Wars: Episode II - Attack of the Clones (2002) Review/ The House on Turk Street (2002)/ XXX (2002) Review/ Formula 51 (2002)/ Basic (2003)/ Star Wars Episode III (2005).