Dharma und Greg:
.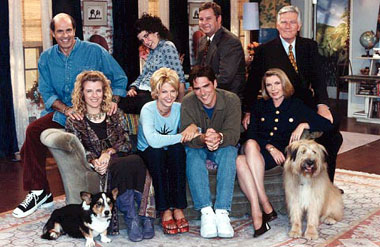 .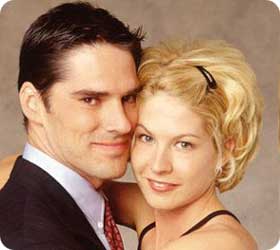 .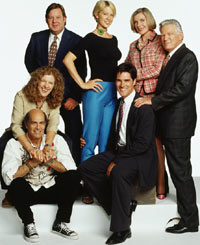 .
.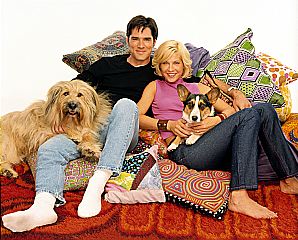 .
.

Elfman stars as Dharma Freedom Finkelstein-Montgomery, a free-spirited yoga instructor with an incredible knack for looking on the bright side. Raised by hippie parents, she was taught to shun convention, trust her wildest instincts, and find the joy in everyday life. Gibson plays Greg Montgomery, a conservative, Harvard- educated attorney and the yin to Dharma's yang. Married on their first date, they have remained committed to each other from day one, despite the obstacles presented by the world around them.
Among those obstacles are Dharma's counterculture parents, Abby (Mimi Kennedy) and Larry (Alan Rachins), who recently brought another bohemian bundle of joy — baby Harry — into the world. On the other side, literally, are Greg's uptight, blue-blood parents, Kitty (Golden Globe Award-nominee Susan Sullivan) and Edward (Mitchell Ryan), who've slowly but surely come to accept the fact that their son married outside the country club boundaries.

Jenna Elfman: Dharma
Jenna Elfman brings a distinctive method of performing to her varied film and television roles, aptly combining a heightened sense of wit and fun with beauty and intelligence.
In addition to her work on Dharma & Greg, for which she won a 1998 Golden Globe Award, Elfman appeared in the feature comedy Keeping the Faith. Elfman has also appeared in the play Visions and Lovers: Variations on a Theme, performed at the Skylight Theatre in Los Angeles. Elfman has been seen in the feature films EDtv, Krippendorf's Tribe, Town & Country, and Grosse Point Blank.On television, Elfman earned raves for her scene- stealing performance in the ABC series, Townies. She has guest-starred in such television programs as Roseanne, Murder One, NYPD Blue, and Almost Perfect. In 1996, she played a drug counselor in the critically acclaimed made-for-television movie, Her Last Chance.
A native of Los Angeles, Elfman began her career in commercials, landing roles in dozens of national television ads for a variety of well-known companies.
Among her many other talents, Jenna is a classically trained ballerina. She currently resides in Los Angeles with her husband.

Thomas Gibson: Greg
Audiences have seen all sides of Thomas Gibson's acting versatility in a wide range of dramatic and comedic roles in film, television, and stage. This season he reprises the role of Greg Montgomery, for which he received a Golden Globe nomination for Best Actor in a Comedy Series.
On the big screen, Gibson appeared in the independent film Jack the Dog, and co-starred in Stardom and Psycho Beach Party. Prior to that, he appeared opposite Tom Cruise and Nicole Kidman in Stanley Kubrick's Eyes Wide Shut, and portrayed Chip Rockefeller in The Flintstones in Viva Rock Vegas. Gibson's other film credits include The Age of Innocence, Love and Human Remains, Barcelona, Sleep With Me, Men of War, and his feature film debut, Far and Away.
On television, Gibson most recently starred in the miniseries The Lost Empire. He has also appeared in the miniseries A Will of Their Own, the miniseries adaptation of Gore Vidal's Lincoln, The Kennedys of Massachusetts and the television movie of Louisa May Alcott's The Inheritance. Gibson received widespread critical acclaim for his performance in Armistead Maupin's Tales of the City, and later reprised his role in the sequel, More Tales of the City. In addition, he played Dr. Daniel Nyland for three seasons on the medical drama Chicago Hope.